I have a confession; I truly LOVE Ikea and I am a huge advocate of Ikea Hacks.
You have to agree with me that Ikea furnitures are fairly cheap and affordable compared to other furniture retailers, right? And speaking of quality, the Scandinavians are doing a great job at assuring that.
The best part about Ikea products is, they are very versatile. So you can remodel them into something else to suit your needs.
This is extremely useful in Singapore where our home-space is getting limited and Ikea's space-saving products will come in handy.
So check out these 13 unexpected ways you can "hack" Ikea products; #6 is a personal input from me by the way.
1. DIY your own marble table
(source)
Real marble table are expensive and heavy; and you have to worry day and night about not chipping the fragile material. Follow this simple hack to get your table "marbled"
2. Get a console table that double as a table for your bed and a shelve
You can either get the MALM Dressing Table or REKARNE Console Table  for this.
3. Save space in your small bed room by creating a raised Bed with storage
(source)
Get the instructions HERE 
And if you're up for a bigger challenge…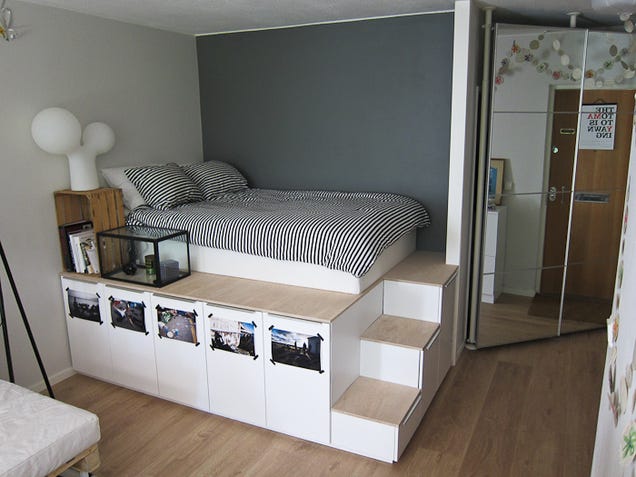 Instructions and drafts HERE 
4. Make a table with ample (adjustable) storage with shelves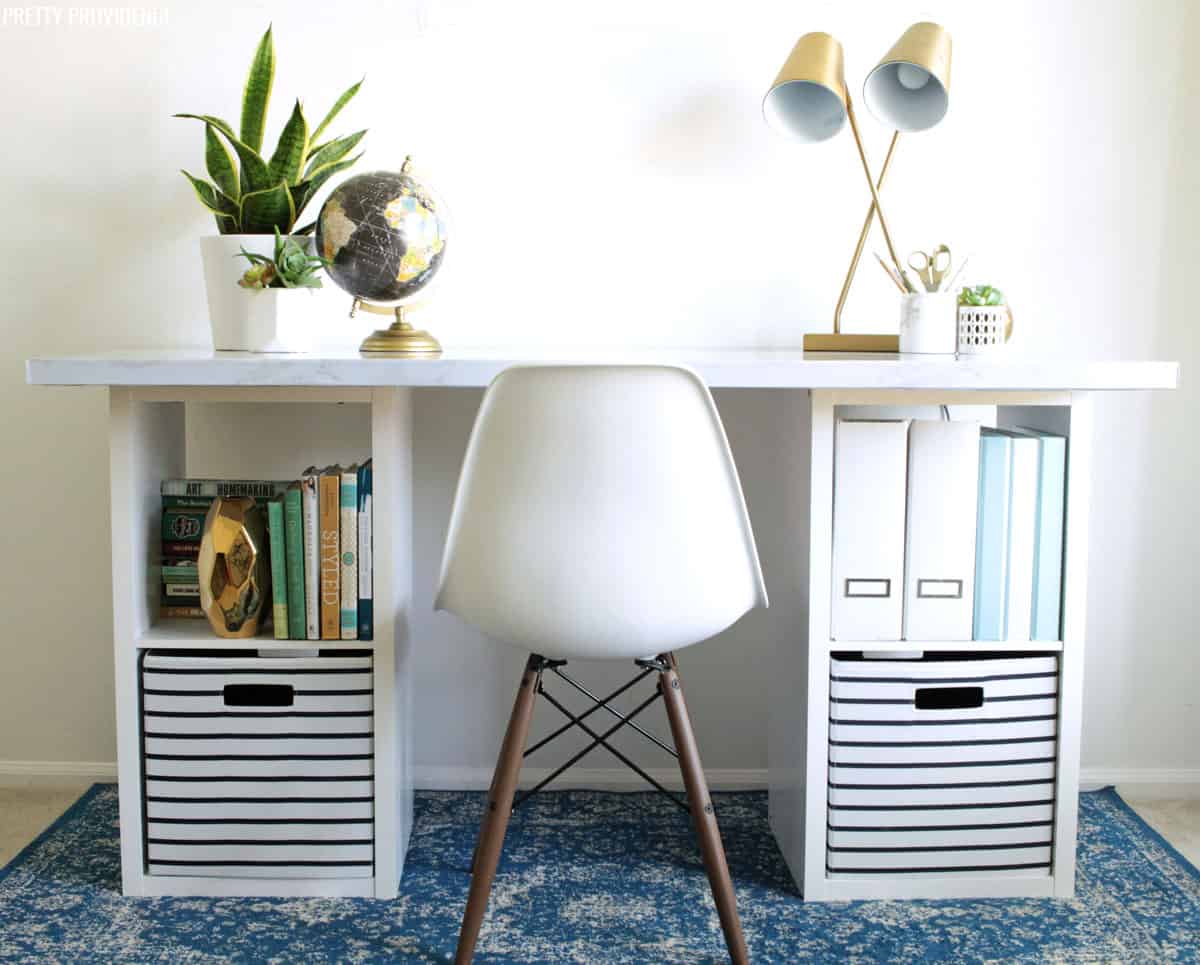 (source)
and this is how you do it…
5. If you are running out of space behind your door to hang your outerwear, scarfs or towels..
Use a Grundtal towel holder to create more space.
6. Convert the Billy Bookcase into a dresser
Because of the flexibility of the Billy bookcase (or any Ikea shelves and cabinets), you can arrange the shelves to your preference.  I used FAKTUM cabinets instead here as they are more sturdy (but also more expensive) and Billy bookcases didn't fit my wall. (JANSJÖ LED spotlight are attached here to give extra light for the vanity table)
7. You can use the Billy Bookcase as a shoe storage too
8. Flip a KALLAX shelf over to make your own window / bench seat with storage
Find out how HERE
**My friends and I made this once for her new living room. But we were too lazy not handy enough to make the foam sitting; hence we got the thick fur rugs from Ikea to make a comfortable seat instead.
9. Or a chic banquette style sitting for your dining room
Because if you'd call a contractor to do it, it will be expensive and built-in. That means it's hard for you to change the design, and you have to call the contractor again to remove it when you don't like it anymore (therefore not cost-efficient)
Get the instructions HERE 
*The KALLAX series was previously known as the EXPEDIT series. So you can search for other Expedit hacks that will also work with Kallax*
Not only can you use them in the office for office supplies, you can use them in your bathroom for small things like bobby pins, cotton pads, cotton pads.
11. Use these KNUFF magazine folders to organize your kitchen and toilet cabinets
Kitchen: Store your boxes of foils, ziploc bags etc.
Toilet vanity: Store your curler and hair dryers
12. Or make a corner shelf out of them

13. Make an Extendable Kitchen Island & Table
This is ideal for new homes that have limited dining/kitchen space; combine your dining area with storage to maximize space.
You'll need KALLAX shelves, GERTON Legs  and  a LINNMON table top. Get your guide HERE
——
With a little creativity, you will be surprised at what you can do and make out of Ikea furnitures and products. Do you know of any Ikea hacks too? Share with us in the comment section below!