I'm sure many of you have seen the Cheat Sheet to Long Weekend Getaways in 2015 and you are already starting to plan your getaway trips. But going to Bali, Phuket, Boracay and other popular islands seem to get a little stale already isn't it? So today, I'll bring you 5 hidden gem beach destinations in Indonesia that you should visit.
From snorkelling (or diving) in the world's 2nd largest coral reef, to swimming with jellyfishes, you'll be in for a treat that you have never expected from these beautiful islands.
1) Kakaban Island
Photo credit: 
Westmorland Photography
Part of the Derawan Islands, Kakaban is known for their jellyfish lake, where you can swim with schools of jellyfishes! The jellyfishes are stingless, that's why you'll be able to swim safely in the lake whilst being surrounded by these adorable jellyfishes. Definitely an experience you should go for in your lifetime.
Getting there: Fly Silkair to Sepinggan International Airport at Balikpapan and connect to an internal flight to Tanjung Redeb, Berau. Once in Berau, hire a speedboat and take a 2hr ride to Derawan Islands
Accommodation: As there is no accommodation on Kakaban Island, most tourists take residence on the neighbouring islands such as Sangalaki, Maratua, Derawan. Kakaban is about 20 minutes from Sangalaki, 30 minutes from Maratua and 45 minutes from Derawan.  Accommodation on these islands start as low as SGD$20 per night for hostel/homestay style, and $40 per night for beach cottages.
 2) Belitung Islands
Photo credit: 

indonesianlandmarks.wordpress.com
Photo credit: 
www.travellerpoints.com
Known as "The Island Beyond The Rainbow", Belitung is the island to go for ultimate relaxation. With endless clean beaches and crystal clear water, you can spend your days lazing on the white sands, or snorkel around the coral banks. Not forgetting the magnificent granite stone formations that can be found around the island.
Getting there: Take a ferry to Batam and transfer to internal flight to Tanjung Pandan. Hire a cab via STREET TAXI to travel from the airport to Belitung Island.
Accommodation: Hotel accommodations starts as low as SGD$45 per night for a group of 3.
3) Karimunjawa Islands
photo credit: 
www.werelax.ru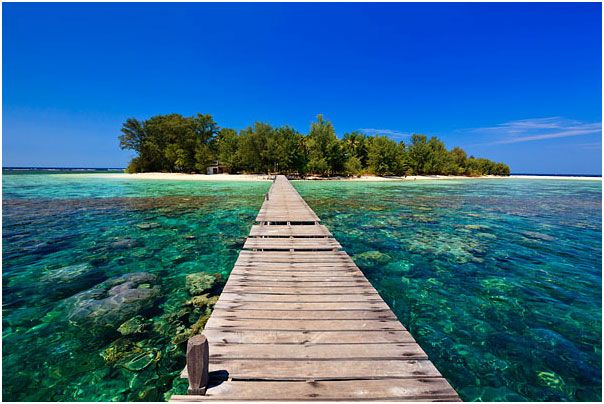 You don't have to travel all the way to Maldives for pristine beaches with clean clear
waters. You can find them right here in our neighbouring Indonesia.
Photo credit: letsgowithme.com

A paradise for divers, Karimunjawa Islands is where you can go see the beauty of coral reefs and marine life. The water in Karinmunjawa is so clean that you can see the seabed very clearly. So if you are planning a diving trip, why not consider here? Do take note that February is the peak of the rainy season for this region.

Getting there: Take a SilkAir flight to Semarang Airport. Then head down to jepara pier, where you'll take a 1.5hr boat trip via Bahari express boat to Karimunjawa

Accommodation: You'll be able to find homestays and inns starting from as low as SGD$15 per night on the island
4) Bunaken Island
Photo credit: 
visit-indonesian.com
photo credit: 
tourbunakenisland.blogspot.com
Together with 3 other islands, Bunaken Island is part of the Bunaken National Marine Park. This is another destination that should be on every diver's bucket list; where the waters promise a large diversity of marine species including dolphins, reef sharks, sea turtles, dugongs, vast variety of fishes and larger pelagic marine creatures. However, as this is a protected area, visitors will have to pay a fee of about R.P. 50,000/day (SGD$5) to enter the park.
Getting there: Take a flight to Manado, transfer to ferry to head to Bunaken island. The ferry service should not cost you more than SGD$3 (R.P 30,000)
Accommodation: Most tourists stay in Manado and head to Bunaken for a day trip. However there are beach cottages on on the island with 24hr electricity going from SGD$40 per night.
5) Wakatobi Islands
This endless stretch of coral reef is home to 1,700+ marine life species,
definitely a diver's paradise
Photo credit: 

syuridamsi.blogspot.com
Located off the Southeast coast of Sulawesi, in the legendary Coral Triangle, Wakatobi has the 2nd largest coral reef in the world! Be wowed by the mega-ultra diverse ecosystem under it's crystal clear water (we're talking approx. 940 species of fishes and 750 species of coral reef), this is one of the popular destinations for diving and snorkelling.
Getting there: Take a flight to Bali and then connect via domestic flight to Wakatobi
Accommodation: Look up Tomia or Hoga Wakatobi Dive Center and they offer dive packages that includes accommodation starting from USD$85 for 2 nights.
——–

Now that you have seen 5 of these hidden gem islands in Indonesia, are you itching to satisfy your wanderlust for some sun, sand and sea? Start planning and slotting them into your 2015 Getaway cheat sheet. Or stay tuned for our next instalment as we bring you 5 Hidden Islands in Thailand you must visit in 2015.
Photo credit: beachcomber-hotels.com
 *Disclaimer: $500 budget does not include prices for activities. Prices may vary due to currency fluctuation and seasonal pricings quoted by the resorts 
Tell Us
What You Think
0
Like
0
Love
0
Haha
0
Wow
0
Sad
0
Angry