Why spend thousands of dollars to travel to Maldives when you can find the same piece of beach paradise around South East Asia?
In our second instalment for "Hidden Island Getaways in Asia",we bring you 5 hidden gems in Thailand that are so serene, you probably never heard of them before.
What's more, a trip to these Siam islands will probably only cost you $500 tops.
1) Ko Nangyuan
Photo Credit: : Alex in Wanderland
Besides being a diver's paradise, Ko Nangyuan host a variety of activities for tourist (ziplining, hiking etc.)
"Ko Nangyuan, a very popular and picture-perfect group of islands 15 min from Ko Tao that are connected by strips of powdery white sand. While Nangyuan definitely merits a visit, many travellers suggest renting a scooter and heading to the unexplored eastern side of the island where intrepid travellers can rent a humble bungalow on an empty paradisaical beach for as little as $20 a night."- Huffington Post
Getting there: Take a bus from Bangkok to Ko Tao, and then transfer to longtail boat service (200baht/person)
Accommodation: Tourist will be able to book a room at Nang Yuan Island Dive Resort starting from $85 SGD.
2) Ko Kood
Photo credit- Tripadvisor
"Ko Kut is a large, mountainous island whose interior remains largely jungle covered and whose western and southern coasts are dotted with glorious white-sand beaches. The waters surrounding the island are crystal clear and some beaches have an other-worldly Maldivian appearance. It's beautiful." – Travel Fish
Getting there: Take a bus from Mor Chit station at Bangkok to Trat, where you will then take a shuttle service to Laem Sok pier and rent a speedboat service that will take you to Ko kood (500baht/person)
Accommodation: There is an array of accommodations available on the island ( homestays, resorts, bungalows, backpackers hut) from 600baht a night.
3) Koh Lipe
Photo credit: The Beach Front Club
"Unlike Phuket, Koh Lanta, or Koh Samui, the small, horseshoe-shaped Koh Lipe has held on to its Thai authenticity. Koh Lipe provides all the amenities of its more famous neighbours, but without the hefty price tag and hordes of red-faced farangs."- International Business Times
Getting there: Take a flight from Singapore to Hat Yai International Airport (~1hr), and then land transfer to Pak Bara Jetty (1.5hrs). Lastly, rent a speedboat for about 650 baht that will take you to Ko Lipe (~2hr)
Accommodation: There are a few resorts on Koh Lipe where you can easily get a room for 900 baht a night. Head to KohLipe.net for some of the recommended resorts!
4) Ko Adang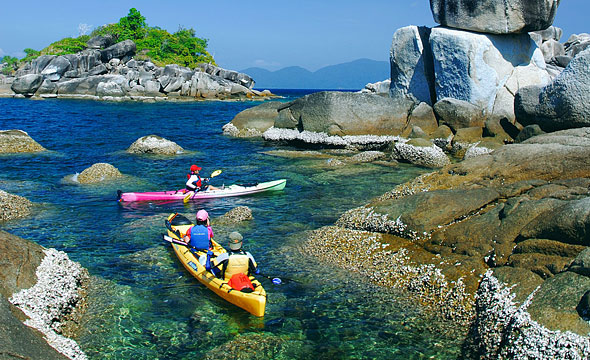 Photo credit: Tourism Thailand
"Also part of Ko Tarutao National Park, Ko Adang is one of the larger islands in the archipelago. Apart from its beautiful beaches, you can explore inland waterfalls once used by passing pirate ships to replenish their water supplies. Hiking trails abound. In addition, if you visit between September and December, you're likely to see green sea turtles lumbering ashore after dark to deposit their eggs in the sugar-fine sands."- Travel Channel
Getting there: Only 10-15mins away from Ko Lipe, book a speedboat at 100 baht/person and it will take you to Ko Adang
Accommodation: You'll be able to book through National Park accommodation, with prices starting from 600 baht / per night
5) Koh Phayam
If you like to take a break from civilisation and escape into the tranquillity of the quiet beaches, Koh Phayam would be perfect for you. The idea of pure serenity and authentic island experience will make all that travelling to this island worth it.
"At any given time there's probably only around 100 foreigners on the island, and given that there are about 5 amazing white-sand beaches to choose from, one of which is over 2km long, you'll have a beach seemingly to yourself. Without the tourist hordes, the prices have been kept Thai style so enjoy the cheap fruitshakes and local food"- One Step 4ward
Getting there: Take a bus from Bangkok to Ranong (depart at 8pm and arrive at 6am) then take the first boat to Koh Phayam at 9am.
Accommodation: Backpacker accommodations are readily available on the island. You can get a basic hut with limited electricity and a fan from 150 baht, or more upscale bungalows with air con and 24hr electricity from 1500 baht.