You only need a few dollars a month to get started... thanks to the extremely low start-up capital and operating costs
You can reach audiences worldwide and literally market to anyone, anywhere, anytime!
You set your own pace and be your own boss: Decide exactly how much time, effort and resources you choose to invest
You can play, travel and spend time with family while your website works hard to make money for you, 24/7 round the clock
You can work comfortably from home... and have complete freedom and flexibility to decide how you run your online business
Register Your

FREE

Seat At This


"Internet Profits Mastery" Workshop!:



Venue: 50 Market Street #10-01,
Golden Shoe Carpark,
Singapore 048940
(5 mins walking distance from Raffles Place MRT)
Exclusive FREE Tickets Only For The First 20 People!
Who Are Calvin & Patricia?
2 average Singaporeans, Calvin & Patricia came from middle-income families
Calvin was working 3 part-time jobs to help his family's finances out, all while studying full-time
They then decided to start an online business together, hoping to change things
Despite starting with no experience, they managed to make an impressive sum of money.
Over the years, they refined and improved their online business strategy
They managed to grow their business into a....
MILLION DOLLAR COMPANY
They want to share their 5-step system with people, because they understand it's tough without someone to guide you.
Hence, they came up with their very own online business workshop
To personally share their methods with Singaporeans for FREE
Calvin & Patricia have been featured in various local news media including... Mediacorp's Channel U and Singapore Press Holding's My Paper!
They've delivered and spoken at big events to thousands of local and overseas business owners, entrepreneurs, and even aspiring ones! With the goal of guiding them and helping them improve their online business.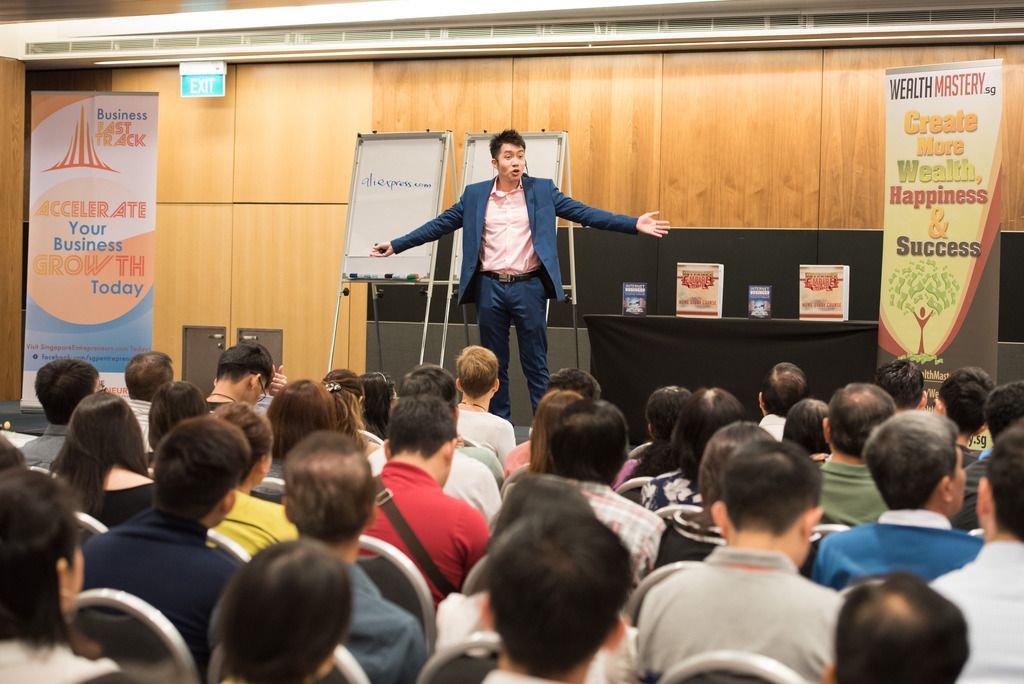 And they have personally worked with famous celebrities like Michelle Chong, and world-renowned business coach, Kane Minkus.
"Making over $5,000/month from my online business!"
 "....after attending Calvin % Patricia's seminar....I've gone on to build a successful online business and I currently make over $5,000/month!"
"...allowed me to quit my full time job last year and I now have a lot more time and freedom."
-Lester Lim
"Start making money with little capital..."
"....cheapest way to start your business making money without the burden of high rents and capital..."
"....learn and get various resources that you never even know existed."
"Definitely worth your time!"
-Edna Ng
"Calvin & Patricia have helped me bring in over $10,000"

"They are the real deal when it comes to starting a profitable online business"
"....they've helped me bring in tens of thousands of dollars for me"
"....truly likable people as they are down-to-earth in spite of their rising success"
-Edmund Loh, Best-Selling author of Secrets of Student Millionaires
6 Important Online Business Techniques You Will Discover At This Workshop
A Simple 5-Step System You Can Apply
How you can start a profitable online business in Singapore using this simple 5-step system...even with no skills and experience
A Simple But Little-Known Resource
Discover a unique technique on how to build a massive audience who will chase your product every single day... so you can profit from them
Exact Websites And The Best Products You Can Promote
Learn how to spot winning products and once you know these valuable secrets, you will start converting your audience into hungry buyers
Learn Why Most Internet Marketers Fail
Find out the surprising reasons why 90% of all internet marketers fail in the first 5 years & how you can avoid that path if you adopt the right mindsets
How To Generate More Traffic And Leads
Discover how you can use powerful marketing techniques to generate leads at low cost, and thus secure more customers for your business
How You Can Have Us As Personal Mentors
Personally receive 1-on-1 mentorship sessions with us as we help you through creating your own 6 or 7 figure online business!
Here's What Some More Students Are Saying About Calvin & Patricia After Attending Their 

"Internet Profits Mastery"

 

Workshop...
---
"Generated over $300,000 within 1 year, with their help... Highly recommend their coaching"
"Calvin & Patricia are the definitive authority when it comes to marketing & sales."
"Working with them has been the best decision for our business and I highly recommend their coaching!"
-Roy Tay, Director of Actions To Wealth Pte Ltd
"We are on the road towards financial freedom"

"This workshop had cut short our learning curve"
"....gave us the confidence to start our own own online business by giving us a roadmap to achieve the success we desired"
"Today we are on the road towards financial freedom"
"We highly recommend you to join them"
-Lily & Daniel Singh
"I was initially skeptical... But now i'm fully convinced"

 "The seminar really opened up my eyes to the world of a profitable internet business"
"Calvin and Patricia have proven to be high caliber speakers, motivators and most importantly, mentors"
-Zulfadli Rosli
Who Would Benefit Most From This FREE Seminar?
You're Someone Looking For Guidance
This workshop is specifically designed for people often wished to learn how to make money online but lacked the knowledge and guidance on how to start
You're An Internet Marketing Beginner
Struggling as an internet marketer? Not getting your desired results? This workshop can help change that around for you
You're Afraid Of The Rising Cost Of Living
This workshop will get rid of any fears you have about not having enough money due to the failing economy or rising cost of living in Singapore
You're Seeking Financial Freedom 
If you don't want to solely rely on your 9-5 job and wish to build some side income to quickly achieve financial freedom, you must come!
You Want to Transform
Your Business
You want to learn a simple & proven formula that has helped many online business and could transform yours as well
You Want High Flexibility In Life
If you simply want more time, more money and more freedom to do the things you truly enjoy in life, we highly recommend you come!
...and see how you can start using Calvin & Patricia's simple 5-step system to grow your online business into a very profitable one... TODAY!
TERMS OF USE, DISCLAIMERS AND FORWARD LOOKING EARNINGS STATEMENTS
We have to say this stuff legally and it's important to know. We've taken every effort to ensure we accurately represent this seminar and it's potential to help you. However, we do not purport this as a "get rich scheme" and by law we cannot guarantee that you will achieve any results or earn any money from attending this seminar. Your level of success in attaining results is dependent upon a number of factors including your skill, knowledge, ability, dedication, business savvy, business focus, business goals, partners, promotions, audience, and financial situation. Because these factors differ according to individuals, we cannot guarantee your success, income level, results, or ability to earn revenue. You alone are responsible for your actions and results in life and business. This seminar is for educational use only and we make no representation or warranties with respect to the accuracy, applicability, or completeness of its contents. Any forward-looking statements outlined in our promotions are simply our opinions, estimates, expectations or forecasts for future potential, and thus are not guarantees or promises for actual performance. As required by law, we can make no guarantees that you will achieve any results from our ideas or models presented during the seminar and we do not offer professional, legal or financial advice. Our only guarantee is that you'll be satisfied with the quality of the program. If you are not satisfied you can have a full refund. Under no circumstances will the creators of or experts represented in this program be held liable to any party for any direct, indirect, punitive, special, incidental or other consequential damages arising directly or indirectly from any use of this material. We are not responsible for your actions or the information or actions of any third party that may be part of the contents or promotions of this program. By enrolling and participating in this seminar you agree to these statements and agree not to hold our company liable for your results or actions. You also agree to let us know if you are unhappy with the seminar so that we can address your concerns or refund your tuition.